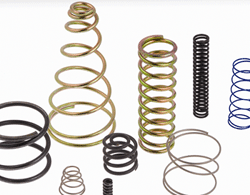 Precision compression springs are routinely produced on our state of the art CNC coiling equipment. This insures an efficient cost effective process that will meet the most demanding requirements.
A variety of materials are used when manufacturing compression springs, including hard drawn, music, oil-tempered, chrome silicon, stainless, and other available types of spring wire. Our wire size range is from a minimum of .006 diameter material to a maximum of .312 diameter.
Rockford Spring specializes in tight tolerance, highly stressed designs and offers services such as, shot-peening, cycle-testing, set removal, and squareness under load testing to improve and verify product performance.
Plating, color-coding, and special packaging to prevent tangling are all available to supplement the performance characteristics of your design.
"Try us on the tough ones. You'll be glad you did!"