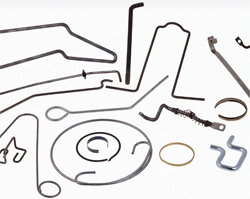 Wire forming is more art than science. Production is limited only by the imagination of the individuals involved. Our employees take pride in the results of their labor and strive to provide the most value to our customers. Wire forms can be produced in wire diameters of .012 minimum to .250 maximum in any configuration imaginable. All spring wires, as well as, basic low carbon steels can be used.
We offer complete secondary operations, including stamping and piercing. Plating, oiling, and painting are also available. Lower volume products will often benefit from forming equipment requiring no special tooling. This eliminates a tool charge. Our fully equipped Wire Form department can meet or exceed your needs.
Try us on the tough ones, as well as, the easy ones. You'll be glad you did!