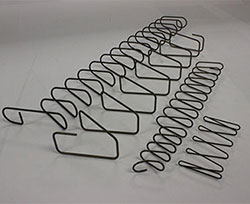 Magazine springs are very specialized springs requiring a great deal of experience and expertise to design and manufacture properly. Rockford spring has developed a lot of experience with this product over the last several years. We manufacture magazine springs for several companies in a variety of designs. RSC purchased a special purpose spring coiler dedicated to magazine springs in 2010. This machine has given us the capability to develop a very efficient high quality process.
We have been able to work with our customers and provide solutions to some of their toughest problems with their magazine springs. We welcome involvement at the design stage and can provide assistance and design verification at no charge.
Try us on the tough ones. You'll be glad you did!