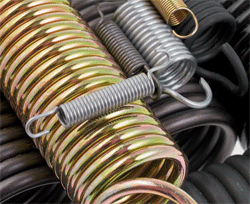 Extension springs with traditional or exotic hook, loop and leg configurations are easily and efficiently produced on our state of the art CNC equipment. Wire diameters range from .006 to .225 in all types of spring wire.
Shortened setup times, coupled with in-line heat treating equal cost effective quality production. In-process laser dimensional monitoring contributes to products with the low ppm reject rate demanded by today's market. Many of our customers have never experienced the consistency and tight variation range we regularly produce.
Our well-equipped Secondary Department can provide sometime-needed finishing operations. Additional services such as plating, color-coding, and tangle-free packaging all add to the value we provide.
Try us on the tough ones, as well as, the easy ones. You'll be glad you did!